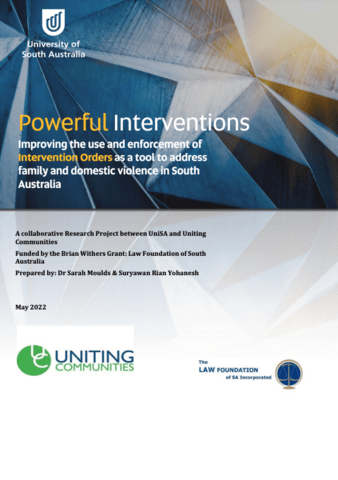 The Powerful Interventions: Improving the use and enforcement of Intervention Orders as a tool to address family and domestic violence in South Australia Report has been prepared following collaborative research between Dr Sarah Moulds of UniSA and Rian Yohanesh of Uniting Communities, funded by the Law Foundation of South Australia's Brian Withers Grant. The aim of this research is to improve the quality of South Australia's response to family and domestic violence by identifying practical reform options to increase access to and enforcement of Intervention Orders in South Australia. This aim aligns with the strong demand within the South Australian community to see the Intervention Orders regime improved.
Key Recommendations from the report:
Improve awareness and understanding
Improve the quality and consistency of 'first responses'
Clearly identify and streamline the different pathways for obtaining an Intervention Order
Proactively promote compliance with Intervention Orders
Read the two page summary and full research report below.